Allergies and Asthma
Your immune system serves to protect you against harmful bacteria and viruses. However, sometimes it also reacts to allergens, which are typically harmless to most people.  If you have allergies, your immune system is oversensitive to these substances. When your body senses an allergen, it releases "histamines" to fight off the allergen. Histamines cause itching, hives, inflammation, mucus, rashes, hives and other unpleasant symptoms. So…let's take anti-histamines, right? (I hope you shouted "no!")
Sneezing, sinus pressure, headaches, itchy eyes, and difficulty breathing can really make you feel awful. While it's certainly tempting to reach for allergy medications (typically anti-histamines and bronchodilators), these suppress your immune system and do nothing to alleviate the underlying issue. Plus, you might like having an immune system! Many allergy sufferers also find that medications become less effective over time and have a host of unpleasant side effects.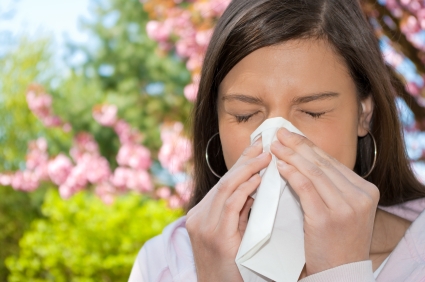 Unlike traditional medicine's approach, acupuncture and Chinese medicine don't suppress the immune system, but regulate the body's immune response, making your body less hyper-reactive to allergens in the environment. This is especially helpful if you are allergic to multiple things, or are not sure what triggers your allergies. Treatments are also tailored to address your individual symptoms and energetic blockages, quickly opening the sinus passages, facilitating breathing and relieving sinus pressure & headaches.
With a course of acupuncture treatment and recommended herbal formulas, your body can often rid itself of the allergic reactions altogether. That's certainly better than hiding indoors all Spring!